Okay, we can't wait any longer to tell the world our big news…. Shamanic Connection will have a new home in the next couple of weeks! We will close before the end of the month on a lovely piece of property just north of Grants Pass (about ½ hour from Medford). We are completely thrilled and more than ready to move. So, you can see why we've been busier than usual. And we may be out of the office from time to time as we move. Please leave a message so we can get back to you.
Many of you in our shamanic family know that this is the culmination of a dream that we have had for many years. Back around '92 in several of her journeys, Debbie was given the vision of building a retreat where people could come and spend time on the land, reconnecting with themselves and with Spirit (hence our tag line… Reconnect with Yourself, Spirit and Mother Earth Through Ancient Shamanic Practices) and learn about walking the shamanic path. We were living in Oregon at the time, but our ranch property wouldn't sustain the retreat (we had NO water – had to haul water for household use). So, we carried this vision with us to Michigan and Arizona and then back to Oregon. So, now, 20 years later, and back in Oregon, we (with your help) have manifested our dream. This is the Law of Attraction at work!
A few months ago, we did a new moon ceremony to begin manifesting our land. We were pretty specific about what we wanted and the area we hoped to settle in. We laid out everything, wrote it down and gave it to Spirit. Then, we began the process of finding a real estate agent and looking at properties, all the time holding our vision in place. We asked that the property present itself and any blocks in the process be cleared.
Spirit had this property just waiting for us. Gary actually found it on an internet search. It never did come up in the properties for sale sent to us by our real estate agent. It had been on the market for 518 days with no offers. Talk about waiting for us to arrive! We immediately fell in love with the land. We both looked at each other as we got out of the car and knowing it was "home".
We tried to keep any fears of not finding the right place or funding issues (it's not easy when you are self-employed) at bay. The purchase process has been a little drawn out as we both were out of town for 10 days in the middle of our inspection period. We had set minimum requirements for things such as well production and internet availability. All the tests exceeded our standards. The sellers have been exceptional and financing was a breeze, as financing goes. It's amazing how smooth things go with Spirit assisting and  we just went with the flow.
One of the places that people tend to "fail" with the Law of Attraction is focus. We attract what we focus on, and that's not necessarily what we verbalize as our goal. It's the "pink elephant" thing. If I ask you NOT to think about the pink elephant in the room, what do you think about? Yup, the pink elephant. So, if you are wanting to manifest a job because you don't have one, and you SAY you want a job, but all you think about is NOT having a job because you're broke or bored, guess what you get… Right, NO job. It's not easy to hold that kind of focus and think only about the positive, especially when what's happening in front of us is making us think about what we DON'T want. It's definitely an exercise in changing our thinking. I would imagine that we would have manifested a place sooner if we'd have stayed 100% on track, but there is a timing factor in here too. But, if we hold on to our dream and give it as much detail and positive attention, we CAN manifest it.
So, here's our dream that manifested.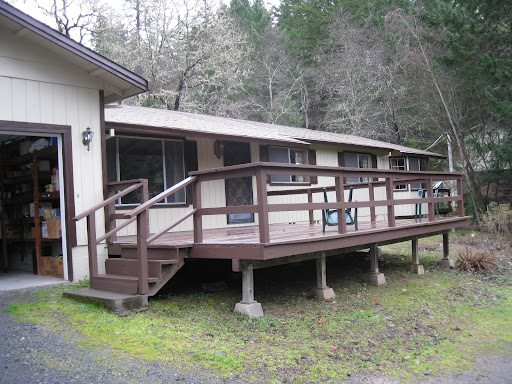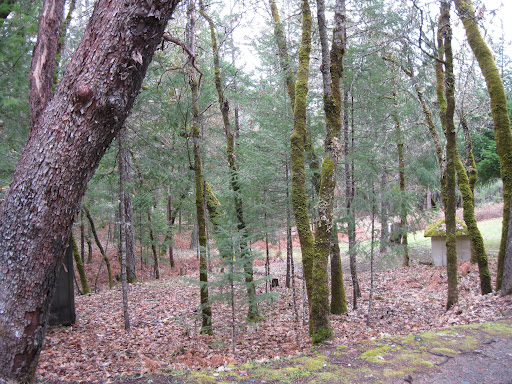 The house was built in 1978 and sits on almost 7 acres of forest land. Not only are we outside the city limits, but we are off a private road with a very long driveway that keeps us completely secluded. All our neighbors are far away and they can't subdivide their land, so one can build anywhere near our place. The house has 4 bedrooms and a family room, so we have plenty of place for our offices. It needs a little updating. It's in great shape, but definitely dated for the 70's with dark wood paneling in a lot of the house. But, that's what we wanted… something to play with. We have a huge shop that will someday be playshop space and guest room. There is lots of room for a sweat lodge, medicine wheel and maybe a tee pee. So many ideas….
To all of you who listened to us tell about our vision, held space for our dream, said many prayers and blessings, we thank you from the bottom of our hearts. It is your love and support that gave us the strength and courage to follow our dream. We hope we can help you follow yours. Thank you, thank you, thank you. Mitakuye Oyasin.  We ARE all related.
Our next blog may be a little delayed due to the move, but until next time… from our new location…
Mitakuye Oyasin (A Lakota prayer reminding us we are all related),
Debbie & Gary