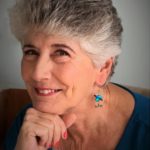 Deborah (Debbie) Overholt
Location: New Jersey, USA
Phone: 856-722-9777 (landline)
Specialties:  Soul Recovery & Extraction, Death Walking, Clearings, Offering Playshops on Connecting and working with Spirit Guides and training in Shamanic work.
About Debbie:  Debbie has been an Asian Bodywork Therapist since 1992 and an instructor of Shiatsu and Traditional Chinese Medicine since 1996. She began training in 1994 with Gary Gent in Native American Spiritual Healing for her own healing and growth. Finding a Spiritual Path, and Guides uniquely her own, enhanced her therapy practice and teaching and encouraged her training in the Shamanic ways.
Connecting and working safely with Spiritual Guides is sacred, however, it can be approached with joy and humor.  Debbie (with her Guides) loves sharing with others how to sustain health and well- being with great joy and laughter .