Private Soul Recovery/Extraction Sessions
…are available and take approximately two hours per session. Multiple sessions may be required depending on the situation and the amount of damage. [See more in Healing with Soul Retrieval and Extraction]
Clearing Space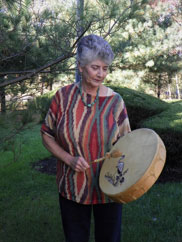 Sometimes, it is necessary to clear living or working space – clear the energy or clear out spirits/entities. Clearing spirits/entities is always done remotely in Journey state and can be followed up with Saging and/or drumming.
On-site Saging and Drumming – Entire space is cleared with tobacco (if needed), Saging of all areas, including inside cabinets/closets and clients can participate with drumming in the process.
Shamanic Playshops
The term Playshop is used instead of workshop or seminar inferring joy, which is experienced by discovering more about oneself. There is no doubt this is sacred work. Many participants find deep-seated issues and experience some tears, as well as releases and laughter. It becomes apparent spirit has a sense of humor that permeates the gathering with uplifting energy.
Introduction to Shamanic Ways
Available to speak to groups on various topics of Shamanic Ways – i.e., Soul Recovery and Extractions, Working with Spirit Guides, Benefits of Walking the Shamanic Path.
Connect with Your Spirit Guide – Part I
We do not have to walk our paths through life alone. We all can have companionship, assistance, and guidance available to us when we are open to and connect with our personal Spirit Guides. Connect with Your Spirit Guide Part 1 is designed to assist you in connecting with and developing a working relationship with your Animal Spirit Guide. This is a one-day playshop of guided journeys to help you qualify and connect with your personal Spirit Guide, create a Sacred Space for you and your Guide(s), and learn how to communicate with your Guide(s).
Part I – Connect with Your Spirit Guide
The day will include:
Review of safe practice with Spirit Guides
Journey to connect with your Guide
Bring back your Spirit Guide to interact with you in your daily life
Learn your Guide's language of expression
Practice communicating with your Guide – asking and receiving responses
Create a special place for you and your Guide – a place for healing and no stress
Experience the Essence of your Spirit Guide through visualization, movement, and dance.
Connect with Your Spirit Guide – Part II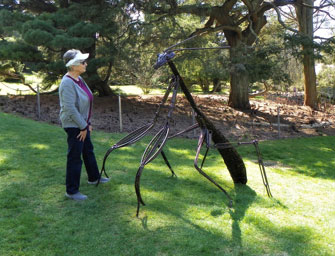 This playshop supports those on their new (or renewed) path of walking with their Spirit Guide(s). Learning to journey to connect with Spirit Guides comfortably is just like developing a new friendship. It takes communication to get to know each other. Guides are with us to protect us and help us grow and understand ourselves better. However, it is the human who must ask and take steps to develop a deeper relationship with the Guide. This is a one-day playshop to practice journeying, asking questions, receiving responses, and getting past the newness of a relationship to a more comfortable and natural relationship.
Part II – Deepening your Relationship and Communication with Spirit Guide
This Playshop will include:
Reviewing what you have experienced so far and review any questions or issues which may have come up
Journey to collect Your Shamanic Tools – with your Guides letting you know
why you have them and how/when to use
Journey for Shamanic Clothing – so no matter where you journey, you will be
appropriately attired
Journey(s) on releasing Fears and Blockages – we all have them, this gives
you practice (and support) in journeying for your self-healing — and that
is the purpose of Spirit Guides, to help and guide us through our lives!
Bring a list of the known fears and blockages you want to release so you have a clear intention to your journey(s).
Communicating with your Chakras
– Playshops series
By exploring and gaining a deeper understanding of your chakras, you will learn more about yourself and acquire tools that will help you in your daily life.
A one-day playshop of introductory journeys into each of the seven main Chakras and their associations. Go beyond the basic symbology of these energy centers and explore to see what messages or answers your chakras may hold. Through shamanic breathing techniques, journeying, and/or meditation, this playshop will help you establish a communication system with your chakras, discovering meaning and messages each chakra contains for you on your growth path.
Separate in-depth playshops on each Chakra this is an advanced series of Playshops. We explore in-depth each of the seven most recognized chakras – Root, Navel, Solar Plexus, Heart, Throat, Brow (3rd Eye), and Crown. The various attributes (or associations) connected to each chakra are explored, as well as discovering unique tools, colors, or symbols to assist in healing. The most revealing, however, is the self-discovery questions used in the journey bringing knowledge, growth, and healing.
Shamanic Death and Rebirth
A powerful playshop will explore your beliefs and emotions about death and dying. Experience through guided journeys, the death process, crossing over to Spirit, the birthing process, and maturing back to your current age.
Sacred Drum-making and Birthing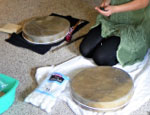 Make your flat drum in the Native America traditional way – journey to the animals and the trees that have provided the materials for the drum and then journey to connect with the
drum's spirit and the ceremonial birthing of your drum. All materials included.
Sacred Pipe Ceremony
The pipe ceremony is a way to communicate directly to the Great Spirit through the pipe smoke. This is an individual session in which you will be able to state your intentions, from your heart, of what you wish to manifest, release, change, or attain in your life. It is an excellent method to remove fears and blockages.
ASPECTS OF SELF – A Shamanic Exploration
Aspects of Self is a three-day intensive, onsite, face-to-face retreat. This is a deep exploration into oneself – of your personality Aspects and core self – through shamanic journeys.
Day 1 – creating the space in your Heart Center for your Aspects of Self to reside; Connecting with your animal spirit guide.
Days 2 & 3 – With your Spirit Guide you will be locating, releasing, and healing each of your Aspects of Self in the primary group of Aspects described below, and moving them to the space created in your Heart Center. You will be clearing or removing the setting where each Aspect is found and have an initial meeting with all your Aspects together in your Heart Center.
See Client Testimonials
What are these Aspects?
The Aspects of Self-present within us are viewed like a program operating a computer, or as in business operation with department managers working together. Our personality Aspects need to cooperate with each other to best assist us in functioning and responding to our environment and experiences in life.
Who are they?
The primary Aspects present in a human being are: Heart Self, Emotional Self, Ego Self, Critic Self, Mental Self, Divine Feminine Self, Divine Masculine Self, Shadow Self, Injured Self, Injured Child Self, Sexual Self, Spiritual Self and Fearful Self. There are additional aspects that may be present in an individual, such as Enabler Self, Empathic Self, Healer Self, Saboteur Self, etc.
Where are they?
In a normal person, these Aspects of Self are scattered and disconnected within the person. This disconnect prevents the person from being in their center, being present, and functioning at one's best cohesive self.
Where should the Aspects of Self be in me?
In our Heart Center. As human beings, we are learning to live our lives in balance, through our heart. Gathering Aspects from their scattered locations and bringing them back to Heart Center allows them to assist us in living life in balance through our heart.
Benefits
With the recovery and relocation of your Aspects of Self to your Heart Center, your department managers (Aspects) begin to work and function together as a team for you, the Conscious Self. This process allows a real-time ability in you to know how and why you are reacting the way you are to life and take immediate corrective action as needed.
Animal Spirit Guide(s)
An animal spirit guide will be necessary to work with you in this process. If you do not have one, you will be assisted in connecting with your animal spirit guide.
Host a Retreat
If there is a small focus group (4-6) interested in attending this three-day retreat, I will be happy to work with you as the host and travel to you. Participants can attend during the day and be in their homes at night, or an actual retreat setting can be arranged. Additional costs for travel and accommodations required.
Individual Shamanic Intensive Retreats
These individual retreats are an immersion in learning the Shamanic ways for significant self-healing, growth, and movement in your life. An instrumental aspect of this is removing fears, resistances, blockages, and unhealthy patterns, thereby allowing movement into your center of power, freeing creativity, and opening your abilities. What you gain and accomplish in this retreat is invaluable and a true investment in yourself.
This intensive process is like a rebirthing of self. You will create and explore a place for rejuvenation, where you learn to communicate and conference with your Guides, ask questions, listen for information, grow in awareness at many levels. The tools and abilities you develop will serve you all your life. The Intensive Retreat is a powerful vehicle filled with joy in the discoveries along the way. To prepare for this retreat, you need to be willing to release all your created protections and blocks to realize the transformative shift into self. This is a life-altering and powerful experience to carry forward.
Activities included in the retreat:
Learning Shamanic Journey procedure
Connecting with Your Shamanic Animal Guides
Chief Guide, Journey Guide and Teacher Guide(s)
Collecting your Shamanic Tools and Clothing
Creating and Journeys to you Sacred Space – A safe place where you can communicate and rejuvenation with your Guides
Past life journeys
Journey to resolve or release specific fears and blocks
Journey to recover your Divine Feminine and Masculine selves
Journeys for Aspects of Self (mental, emotional, ego, etc.) to bring into balance
Other activities may include:
Sacred Pipe Ceremony
Mirror Work
Earth Chakra/Light Body practice
Sacred Ash Ceremony
Practicing Receiving
Sacred Fire Ceremony
Feather Healing Ceremony
Client Testimonials
Two testimonials about Aspects of Self that reveal the benefits of this unique playshop.
"The aspect workshop was one of the most powerful experiences in my life. Identifying my personal aspects has helped me to understand, respect and even change my reactions to situations which arise in my life. I feel as if this one weekend was more effective than years of therapy! I highly recommend this experience – especially if you want to gain a clearer perspective of who you are and why you do the things that you do. This is a wonderful opportunity to open your mind, open your heart and learn to love yourself!"
Peter, NJ

"The Aspects of Self play shop was one of the most rewarding experiences I have had thus far in my quest for spiritual enlightenment. It is not just a workshop but an opportunity for growth, renewal and awakening. To my own surprise I had many experiences while journeying and this did not require any prior knowledge or know how. l had many life changing experiences that weekend. The Aspects of Self workshop is a weekend that I will never forget. It is a weekend of self-discovery that cannot be compared to anything else. What makes it so special is that what you acquire that weekend is something you can use for the rest of your life. [It] equips your "spiritual tool belt" with not only knowledge but with the actual tools you need to pursue your own healing. The Aspects workshop is not something you could ever put a dollar sign on because what I learned that weekend is priceless. That weekend I found my own value and self-worth. Something I did not even know was missing until I found it! I would highly recommend any workshop/playshop (playshop because they are that fun too!) that Shamanic Connection offers because they are coming from a place of love and true healing."
Christina, NJ