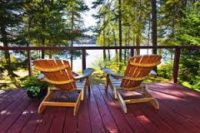 Again I've fallen behind on blogging. Amazing how life gets in the way. But we've been busy here at Shamanic Connection and wanted to share with you what's been happening.
Our retreat space here at Shaman's Grove is up and running! Last fall we purchased an 18 foot travel trailer to house our retreat guests. Affectionately known as "The Rockwood", (those are the big letters on the side from the manufacturer, but it seemed appropriate as we have rocks in them there woods), it lives in a quiet, out of the way space in our forest. And it tags along behind Gary's truck nicely when we go off to teach and play.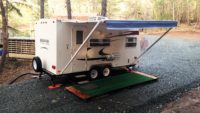 The Rockwood is some pretty cool digs. She's only 18 feet long, but has a tip out for the sofa that gives lots of space inside. There are lots of lovely windows to view the forest, a small, but full kitchen, private bath with shower, a nice canopy and barbecue for outside dining. We've been told we've made it pretty homey. There is no internet or television (and often no cell reception), but we do have our own National Geographic Channel – birds, frogs, deer and other critters, plus the tree people and elementals for your enjoyment.
We still have plenty of work to do to pretty the RV pad up. There was a lot of earth moved to make the pad, which means a lot of planting to prevent erosion. There is a fire pit to go in as well as a medicine wheel planned. So, besides the gardens here, we will have plenty to keep us busy this spring.
There are some other ideas in the works for classroom space. We are looking at building a yurt near The Rockwood. We're taking a trip on Friday to Pacific Yurts. They are only a couple hours north from us, so a nice day trip.
Now that we have a place to host our Five Day Intensive Shamanic Retreats, Gary is no longer travelling. There may be an occasional trip or two, but most of his work is now being done here at Shaman's Grove. It will prove to be a big relief for him. For those of you who travel, you know it takes its toll.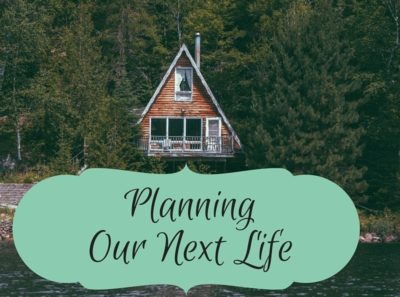 And the other big piece of news is … (drum roll please) … WE ARE RETIRING! … Or at least semi-retiring. Since being a shamanic practitioner is a calling, it's not something you ever quit, you just slow down. Is there a saying "Old shaman never retire they just ???" ?  We're not spring chickens anymore, but by no means ready for the stew pot, we just feel ready to slow down and smell the flowers. It's time to kick back some and spend some time relaxing, playing, enjoying our hobbies, working around the grove and enjoying the summer sunshine. (Hmm … selfcare … isn't that what we tell many of you??? Now it's time to practice what we preach.)
Okay, now breathe. We're not leaving you in a lurch. We will still be serving clients, just not every day. We've been moving slowly toward this in our journey and travel schedules, so now it's more planned.
So, here's the deal … Office hours will generally be on Tuesdays and Wednesdays from 11 a.m. to 5 p.m. but will be somewhat flexible due to appointments and travel. As our schedules permit, other days may be available for sessions to fit your needs. Check in calls will be on Tuesday instead of Monday. Feel free to leave messages if we don't answer the phone. We will get back to you during office hours, or sooner, if we are available. You can always send an email and we will reply.
We will be teaching and travelling occasionally, and Gary will still be facilitating the shamanic intensives here in Oregon. He will no longer be travelling, domestic or international for these retreats.
We hope you will share in our excitement as we move into our next growth phase. We certainly appreciate all of you who have hung in there with us for over 20 years. We'll talk to you on Tuesdays or Wednesdays.
Next blog I hope to pick up the chakra segments again, so stay tuned.
Until next time –
Pleasant Journeys,
Debbie