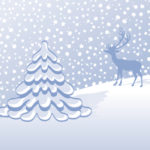 The Wheel of the Year has turned once more and the Winter Solstice is upon us again.
Over the years we have offered up ideas for celebrating Yule, or the Winter Solstice. You can check out this blog in particular – Winter Solstice Celebrations from 2010 .
This Solstice, our gift to you is a guided journey that Debbie created specifically for you. It is a journey inward to find the spark of inspiration that is waiting for you in the void, in the darkness. It's only about 8 minutes, so you could include it as part of an individual or group ceremony. And don't forget to feast and celebrate.
We hope you enjoy this journey and find that spark to nurture and grow with the growing sun.
Blessings for the Winter Solstice.
Until next time –
Mitakuye Oyasin (A Lakota prayer reminding us we are all related),
Debbie & Gary