How Appointments Work:
Schedule your soul recovery appointment with the coordinator listed below. You will be given directions once you are on the schedule.
Please arrive at your appointed time, preferably a few minutes before. Allow 1 1/2 to 2 hours for your appointment.
We will begin by answering any questions you may have about the soul retrieval process and discuss why you are wanting a soul retrieval to focus the intent for the journey.
During the journey, you will just sort of "hang out" on the massage table or blanket remain conscious and receptive to your returning soul pieces. Your shaman will enter altered state with the use of drumming (either live or by CD) and walk into the spirit realm and retrieve your soul pieces. Once all the pieces are found, he/she will blow the soul pieces back into your heart and crown chakras. If an extraction is being done, the shaman will scan the energy system with his/her hands several inches over the body. Blocks will be removed and repairs are done using tools such as feathers and crystals. The energy body is then sealed by circling the body with a rattle.
When the journey is complete, he/she will review the information with you and record your conversation. The audio file will then be emailed to you for future reference.
You will call in again to "check in" at approximately one week and again in 30 days.
Want more information? Check out the following pages:
---
Grants Pass, OR
Private Sessions are available at our office in Grants Pass, OR. To schedule a sessions, contact Debbie Gent or Gary Gent.
---
Mt. Laurel, NJ
Private Sessions will be available October 2-5, 2017. Please contact Debbie Overholt at 856-722-9777
E-mail: debshiatsu@comcast.net to schedule your session before making a deposit or payment.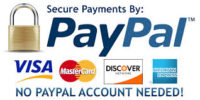 Your payment will appear on your credit card statement as SHAMANCONN
Don't have a PayPal Account?  Here's how to check out using your debit or credit card:
Please click on one of the "Pay Now" links above to make your payment.
You then select "Pay with debit or credit card".