Here's what some of our happy animal companions have to say…
Meow, meow, meow, purrrrrr….
Woof, face lick, woof-woof
Oh, sorry, the web browsers don't translate animal speak well. So, we'd best write in English.
Here's what some of our happy human companions have to say for the animal friends…
From Harley and Buddy in AZ – via Kate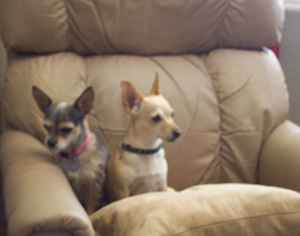 This is the first time Harley let Buddy sit alone with her on the chair without having a pillow between them. Notice she is looking in the other direction. She's still checking him out.
After working with Gary Gent with Shamanic Recovery for myself, with results beyond my imagination, I saw the need to have some work done with my dogs.Gary recommended his wife, Debbie Gent, stating that she did remarkable work with animals.
Harley is a Shihtzu/Chihuahua mix and had been with us since she was 10 weeks old. She was now almost 6 years old and had been the only dog in our home for that time.
Buddy, as we have come to call him is approximately 4 – 5 year old Dachshound/Chihuahua mix who showed up on our driveway looking pretty sad, lonely and lost. After 3 weeks and no one came forward to claim him, we decided to keep him and he became a part of our family.
Debbie did a recovery journey for both dogs and the results have been astounding. When she spoke to me, I could actually feel Harley's personality and Buddy's anguish in her words.
Harley had been showing signs of aggression towards Buddy and I took that to be jealousy. I thought she did not want to share me and my husband.   Debbie helped me understand that Harley did not know if she could trust Buddy and was being protective of her parents.p
Buddy wanted to know where his family was but was not interested in being with them, just curious. He said he liked it here and hoped he could stay. He had had a bit of a rough life before he came here. He had been attacked by a large dog in a neighboring yard, had been dragged around by children and didn't really know his name, (this all came out in his journey with Debbie).
Their Journey with Debbie was about 3 months ago and it feels like Buddy has been here forever. He and Harley walk together, play together, and sit with Mom and Dad together.