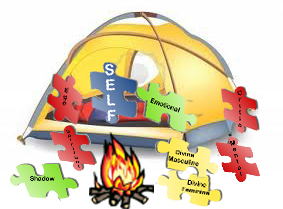 We invite you to Shaman's Grove for a 3-Day camp out with your inner self – exploring your Aspects. Join us at this all-inclusive camping retreat. The retreat includes tent camping at Shaman's Grove (showers available), community meals, exploring your Aspects of Self, fire ceremony, drumming and more.
What are 'Aspects of Self'?
The 'Aspects of Self' can be viewed similar to subroutines that allow a person to respond to their environment, like a program operating a computer, or from a business perception, as department managers of a corporate entity. Basically, our aspects assist us in functioning and responding to life.
Who are they?
The basic group of 'Aspects' that are present in a human being are: Heart Self, Emotional Self, Ego Self, Critic Self, Mental Self, Divine Feminine Self, Divine Masculine Self, Shadow Self, Injured Self, Injured Child Self, Sexual Self, Spiritual Self and Fearful Self. There are additional aspects that may be present in an individual such as Enabler Self, Empathic Self, Healer Self, Saboteur Self, etc.
Where are they?
In a normal person these 'Aspects of Self' are scattered and disconnected within the person. This disconnect prevents the person from being in their center, being present and functioning as one's best cohesive self.
Where should these 'Aspects of Self' be located? They should be in your Heart Center. As human beings, we are learning to live our life in balance, through our heart. Gathering 'Aspects' from their scattered locations and bringing them back to your Heart Center allows them to assist you in living life in balance through your heart.
Benefits
With the recovery and relocation of your 'Aspects of Self' to your Heart Center, your department managers (Aspects) begin to work and function together as a team for you, the Conscious Self. You then have and understanding of how and why you are reacting the way you are to life and take immediate action as needed.
Playshop Activities
This playshop is a small group focus (maximum 6 participants), allowing ample time for individual work. The weekend activities include:
Meeting with your animal spirit guide.
Creating the space in your Heart Center for your 'Aspects' to reside.
Locating, releasing, and healing all of your 'Aspects of Self' in the basic group, described above, and moving them to the space created in your Heart Center, as well as removing the setting from your self where each 'Aspect' was found.

Having an initial meeting with all of your 'Aspects' together in your heart center.
Read what participants of previous Aspects of Self playshops have to say about their experiences …
---
Next Upcoming Playshop…
---
Playshop Details: 
Transportation: Please plan on arriving at Shaman's Grove late afternoon or early evening on Thursday so we may begin Friday morning after breakfast. 
Airports: Medford (MFR) is the nearest airport (appx 45min) – Eugene airport is appx 2hrs – Portland airport appx 5hrs.
Car rentals: Avis, Budget, Hertz and Enterprise are available at the airport.Enterprise is the only car rental in Grants Pass and is not open on Sunday.
Airport Shuttles: Double D Shuttle (541)476-7773 and Grants Pass Cab Company (541)476-6444. Both charge a flat rate. We will let everyone know when people are arriving so you can car pool if you choose.
Camping: We will provide tents, sleeping bags, pillows, air mattresses and flash lights for our campers. Due to fire season, no campfires will be allowed. We have a group tent and a couple of smaller ones. If you are driving in and have your own camping gear you can bring, please let us know. We will have a port-a-potty so you won't need to use the bushes at night unless you choose to do so☺. Showering will be done in our residence.
Not a camper, but still want to attend? No problem, Grants Pass has many nice hotels about 15min away from Shaman's Grove. Then again, this is a great opportunity to meet your "Inner Camper". Please inform us if you will not be camping with us.
Meals: We will cook together as a group for lunch and dinner. Breakfast will be Continental style with fruit, breads, muffins, hard cooked eggs, meats and cheeses etc. Snacks will be provided throughout the day. Meals will include both vegetarian and non-vegetarian menus. Please let us know if you have special needs for your meals (i.e. allergies, gluten-free, vegan).
Vacation Info: Rogue Valley, Medford and Grants Pass are wonderful places to spend a few extra days of R&R. There are many wonderful places to visit along the beautiful Rogue River. The river offers hiking, fishing, river rafting, and camping. The Oregon Coast, Crater Lake National Park, the Oregon Caves, the California's Redwood Forest and Mt. Shasta are all within a couple of hours drive.  And for the wine buffs, we have many wonderful vineyards in the Rogue and Applegate valleys. Check out these websites for vacation planning and hotel information –http://travelmedford.org/ and http://southernoregon.org/.  And we highly recommend the Hellgate Jet Boat Excursions.