ASPECTS OF SELF – A Shamanic Exploration
Dive deep into yourself and explore your Aspects of Self . . . your subroutines or archetypes through the shamanic journeys.
What are these aspects?
The 'Aspects of Self' can be viewed as similar to subroutines that allow a person to respond to their environment, like a program operating a computer, or in a business perception, as department managers of a corporate entity. In this perception of a person, our aspects assist us in functioning and responding to life.
Who are they?
The basic group of 'Aspects' present in a human being are: Heart Self, Emotional Self, Ego Self, Critic Self, Mental Self, Divine Feminine Self, Divine Masculine Self, Shadow Self, Injured Self, Injured Child Self, Sexual Self, Spiritual Self and Fearful Self. There are additional aspects that may be present in an individual such as Enabler Self, Empathic Self, Healer Self, Saboteur Self, etc.
"I have attended several weekend workshops with Gary and they have all been amazing. The aspect workshop was one of the most pwerful experiences in my life. Identifying my personal aspects has helped me to understand, respect and even change my reactions to situations which arise in my life. I feel as if this one weekend was more effective than years of therapy! I highly recommend this experience- especially if you want to gain a clearer perspective of who you are and why you do the things that you do. This is a wonderful opportunity to open your mind, open your heart and learn to truly love yourself!" Peter, NJ
On a side note, Peter was inspired by this playshop to create a tee shirt to honor his Aspects. See the photos above.
Where are they?
In a normal person these 'Aspects of Self' are scattered and disconnected within the person. This disconnect prevents the person from being in their center, being present and functioning as one's best cohesive self.
Where should these 'Aspects of Self' be located in me? In our Heart Center. As human beings, we are learning to live our life in balance, through our heart. Gathering 'Aspects' from their scattered locations and bringing them back to Heart Center allows them to assist us in living life in balance through our heart.
Benefits
With the recovery and relocation of your 'Aspects of Self' to your Heart Center, your department managers (Aspects) begin to work and function together as a team for you, the Conscious Self. This process allows a real time ability in you to know how and why you are reacting the way you are to life and take immediate corrective action as needed.
Animal Spirit Guide(s)
An animal spirit guide will be necessary to work with you in this process. If you do not have one, I will assist you in connecting with your animal spirit guide.
Schedule
This retreat, with its small group focus, runs for 3 days Day 1 – creating the space in your Heart Center for your 'Aspects of Self' to reside. Connecting with your animal spirit guide. Day 2 & 3 – Locating, releasing, healing all of your 'Aspects of Self' in the basic group, described above, and moving them to the space created in your Heart Center. Removing the setting from your self where each 'Aspect' was found. Have an initial meeting with all of your 'Aspects' together in your heart center.
Read Shaman's Blog —
Aspects of the Self – Who's Driving Your Bus Today?
"The Aspects of Self play shop was one of the most rewarding experiences I have had thus far in my quest for spiritual enlightenment. It is not just a workshop but an opportunity for growth, renewal and awakening. I can remember going to my first weekend workshop not knowing what to expect and wondering if I would experience anything at all. I was greeted by Gary with an open heart and a comforting manner that quickly put me at ease. To my own surprise I had many experiences while journeying and this did not require any prior knowledge or know how. Gary set the space and made it possible for us to journey safely.I had many life changing experiences that weekend. Since then, I have been a follower of the weekend play shop and look forward to Gary's New Jersey visits! The Aspects of Self workshop is a weekend that I will never forget. It is a weekend of self discovery that cannot be compared to anything else. What makes it so special is that what you acquire that weekend is something you can use for the rest of your life. Gary equips your" spiritual tool belt" with not only knowledge but with the actual tools you need to pursue your own healing. The Aspects workshop is not something you could ever put a dollar sign on because what I learned that weekend is priceless. That weekend I found my own value and self worth. Something I did not even know was missing until I found it! With the help of Gary my value was returned to me. I would highly recommend any workshop/play shop (play shop because they are that fun too!) that Shamanic Connection offers because they are coming from a place of love and true healing." Christina, NJ
---
Next Upcoming Playshop…
Presenter: Gary Gent
Dates & Time: June 23-25, 2017 | 10 am to 5pm appx
Location: Private Residence, Mt. Laurel, NJ
For more information or to register for this playshop contact:
Debbie Overholt at 856-722-9777 — by E-mail or register below.
Energy Exchange: $350 ($100 non-refundable deposit due by 06-01-17)
Pre-requisite – You must have a working relationship with
your Animal Spirit Guide. No Guide? Contact Debbie Overholt (above) for more information on the next upcoming Animal Spirit Guide Playshop.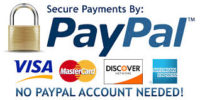 Your payment will appear on your credit card statement as Shamanic Connection/Shaman's Marketplace
Don't have a PayPal Account?  Here's how to check out using your debit or credit card:
Please click on one of the "Pay Now" links above to make your payment.
You then select "Pay with debit or credit card".